Okay, I'm a little late on blog tag...eeek! Better late than never I guess!
1) Show us your favorite vintage slip in your inventory!
Currently, it's this one...a black Van Raalte deep pleated Suavette Nylon slip

2) Lace trim or chiffon trim? Whats your favorite?
Favorite is a combination of both...

WOWOWOW! like on this pink Van Raalte...WOW!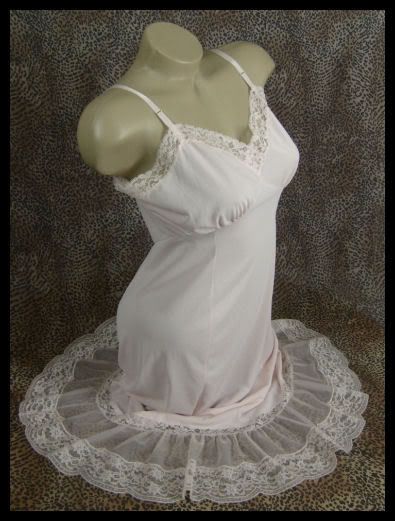 3)Colors or neutrals, whats your preference?
Definitely, colors. Neutrals are pretty too but I'll never pass a chance to pick up slips of many colors! I love them.
4)
Favorite label in vintage lingerie?
I have several favorites. Van Raalte, for one their nylon is ultra luxurious and super soft. Vanity Fair, two for their silky nylon and anything 30's or 40's bias cut is wonderfully delicious.
5)
Full slip or half?
Most of the time, it's full slips for me but I do on occasion find myself a half slip that fits right in with my style Yummmy!
6)
Slips worn as dresses in public?
I personally don't, but if you have the body, and the color is right and you have the right accessories, you can pull it off I'm sure!
eHappy
tags
That Jersey Girl!
.