VINTAGE OR BUST!~Blog Tag Wednesday~ Swim With the Fishes
Its time for Wednesday blog tag again! The temps are on the rise and its time to think about swimwear….what better way to stand out on the beach than in a vintage swimsuit? Lets hit the beach!
WHAT IS YOUR FAVORITE SWIMSUIT OR BEACH WEAR OFFERED IN YOUR INVENTORY?
It absolutely has to be this Cole of California pin up worthy leopard print bathing suit. WOWeeee! Wish I could wear it!
Cole of California WILD GIRL! Leopard Bathing Suit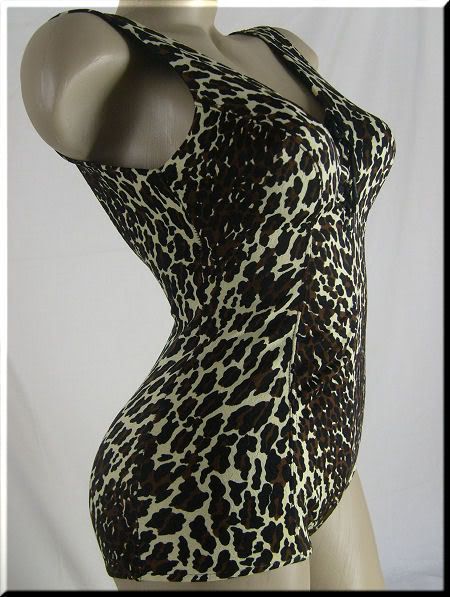 WHAT IS YOUR FAVORITE ERA IN SWIMWEAR, TO SELL OR WEAR?
Likely, 50's because of the flattering draping, designs, etc. PINUP stuff is what I love!
FAVORITE DESIGNER OR LINE?
I have lots but currently it's Cole of California, Rose Marie Reid, and DeWeese has some cute things too. Oh, and for 80's swimwear, I Looooooove Serena.
FAVORITE BEACH RESORT?
Great question! I'm thinking somewhere in St. Thomas...blue waters, fine sand, and sippin' on a Coco-Loco. Good times! Hey, when's vacation?
FAVORITE POOLSIDE, TROPICAL COCKTAIL (WITH OR WITHOUT ALCOHOL)?
Haha, I just answered that. :-) Coco-Loco please!
FOR YOU, BIKINI OR ONE PIECE?
My wish is a bikini and my reality is a one piece.
eHappy
tags
That Jersey Girl!
.